Since our founding, we have continued to manufacture indispensable wire sockets, hook blocks as well as other types of hoisting attachment products for large-scale buildings.
They are mounted on bridges, construction equipment, cranes and so forth, and are used day and night under tough conditions.
Looking into the future, we are aiming to achieve even better quality so that our customers can use our products with confidence.
As a result, we are constantly implementing the strictest quality management practices, and we are aiming to be a company that has "suppleness", which can respond to any requirement flexibly.
We strive to connect not only articles to articles but also hearts and hearts, and dreams and dreams.

We mainly manufacture terminal hardware of wire ropes.
Recently, we also perform the processing of complex shapes and three-dimensional shapes using 3D CAD/CAM and a CNC lathe with milling cutter.
Our factory is equipped with the facilities that can meet various requirements from heavy cutting to precision processing and from circular objects to platy objects.
We have been making every effort to attain the highest levels of customer satisfaction.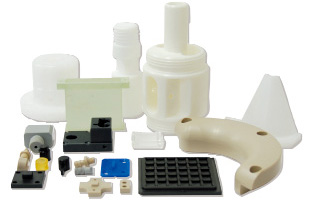 We always ask ourselves, "What kind of products do customers need?" or "What should we do to satisfy our customers?"
We are trying to provide our customers with the products manufactured in line with customers' perspectives.
It sometimes happens that we consider toward the same goal together with our customers.
We will continue to challenge ourselves to manufacture higher-quality products.

Acrylic
PP
U-PE
UNILATE
Rigid Polyvinyl Chloride
PE
PEEK
Teflon
Polycarbonate
MC Nylon
ABS
PPS
PET
POM
Bakelite

The introduction of computer facilities has enabled us to perform more safe and accurate stainless-steel sheet-metal processing.
Additionally, the laser beam machine has enabled us to perform fine laser cutting of stainless steel based on the data of Photoshop, illustrators, handwritten illustrations and drawings
The result is that we can substantiate and commercialize the creativity of designers, creators and architects in an unchanged condition.
We totally know characteristics of stainless steels, and breathe lives into them.
We all are making efforts together to meet your requirements to the extent that we can.

Stainless steel welding and finishing
Precision sheet-metal working
Accurate and high-quality processing by laser processing